CHAPTER 7 BANKRUPTCY: PROS AND CONS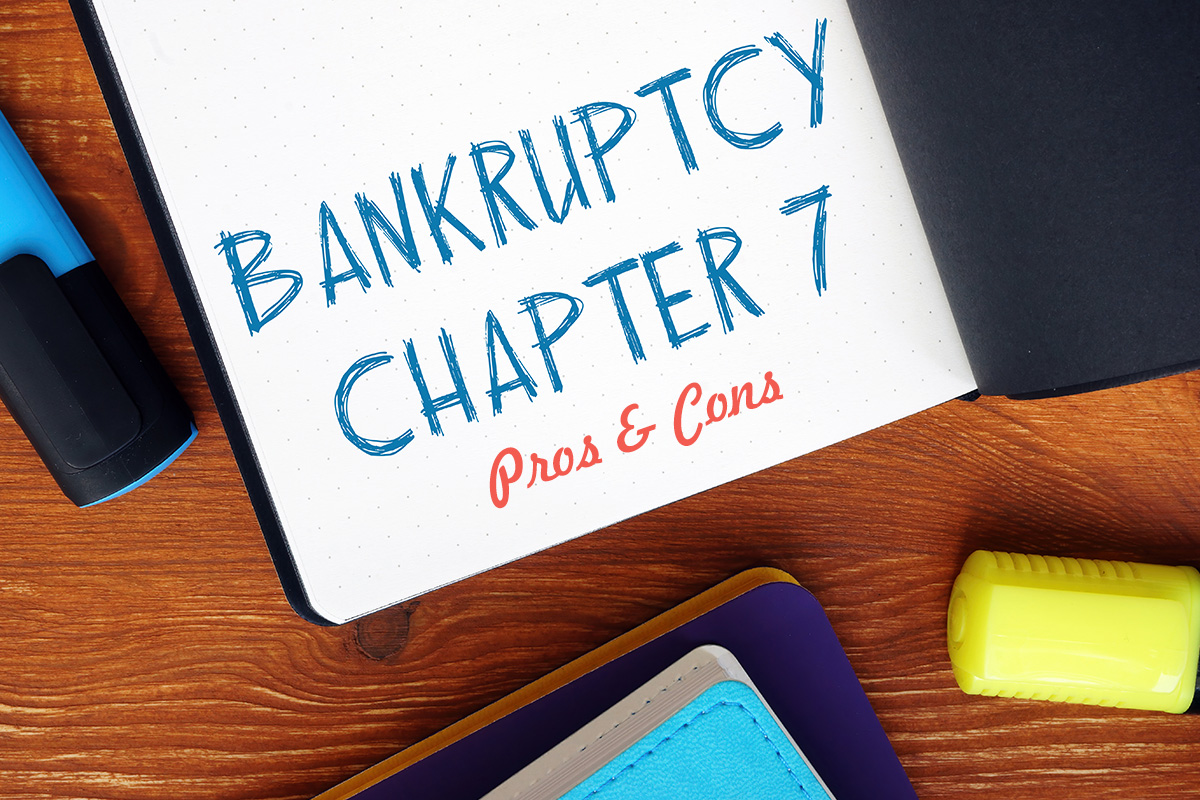 Are you buried under a sea of debt, and you are unsure how you're going to dig yourself out? Are the creditors calling you and threatening foreclosure and wage garnishment? If the answer is "yes," then filing Chapter 7 bankruptcy may be your solution to debt relief. Here is some information to help you understand the pros and cons of filing Chapter 7 bankruptcy. But feel free to contact Craft Law Offices with any other questions you may have.
WHAT EXACTLY IS CHAPTER 7 BANKRUPTCY?
Chapter 7 bankruptcy can provide you with a fresh start. Chapter 7 can give you a clean slate so you can start building a new financial future. Debts such as child support, taxes and student loans are exempt from Chapter 7 bankruptcy, however it may be the perfect solution if you meet the debt and income criteria.
With Chapter 7 bankruptcy, medical bills, credit card debt and utility bills can be excused. As part of the liquidation process with Chapter 7 bankruptcy, some or all of your assets will be sold to pay your debts. The entire process only takes three to six months.
WHAT ARE THE PROS?
We are glad you asked. First, once you've filed for bankruptcy your creditors will know and they will stop receiving payments. With a bankruptcy pending, they may be willing to negotiate a payment plan with you so that they will get paid.
Next, once you've filed, you get immediate protection from wage garnishments and collection processes. Your attorney, creditors, the court, and bankruptcy trustee will then analyze your assets and put together a plan to finalize the Chapter 7 bankruptcy proceedings.
When you file for bankruptcy any of your non-exempt current assets could be sold, however most assets are exempted. Any wages or assets you received after filing you would keep. These new assets will not be considered in the bankruptcy proceedings.
WHAT ARE THE CONS OF CHAPTER 7 BANKRUPTCY?
With everything, there is a downside to filing Chapter 7. One that should be considered before any final decisions are made.
First, Chapter 7 bankruptcy may stay on your credit report for 10 years after it is finalized. As time goes by it has less impact on your score and history, but it might be there for 10 years.
Next, debt incurred within 90 days of filing cannot be discharged, this includes back taxes, child support, credit card debt and student loans.
Your non-exempt assets are liquidated to pay back debts, Home and vehicles are almost always exempted assets.
Finally, you could be discharged from loans, but any co-signers could be responsible for payments. So, if you have a loan that someone co-signed for you, you will want to discuss the situation with them before you file Chapter 7 bankruptcy.
WHY SHOULD YOU HIRE A BANKRUPTCY ATTORNEY?
A bankruptcy attorney will act in your best interest to ensure you are making the best decisions for your situation. Although you don't need an attorney to file bankruptcy, when you have an attorney you are getting an expert on your side. Your bankruptcy attorney is there to make sure you receive the very best deal possible while losing the fewest assets throughout the process.
Bankruptcy law is extremely complicated. Much like a chess match, your attorney is there to help you navigate the following:
Determining if you are eligible for Chapter 7 bankruptcy.
Helping you decide between Chapter 7 and Chapter 13 bankruptcy.
Working with you to decide your debts and exemptions.
Deciding what needs to be included on your bankruptcy forms.
If you feel like your debts are spiraling out of control or if you've suffered a major loss of income, filing for Chapter 7 bankruptcy could be the right decision. Filing for bankruptcy can be embarrassing and stressful, but it can also be a new start. One where you take back control of your finances and your future.
Leslie Craft at Craft Law Offices is experienced in all types of bankruptcy law. She will make the process as easy as possible, walking you through every step. Contact her today so she can review your case and put you on the road to a brighter financial future.